Rob Ferguson
"The people who succeed are the ones who put in the hard yards to continually develop themselves rather than allowing themselves to be bypassed and outdated."<![if !vml]>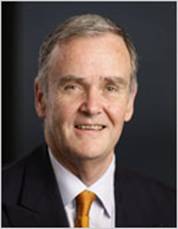 <![endif]>
Rob Ferguson knows how to grow an organisation and its people. Joining Bankers Trust in 1971 as a fund manager, Rob was part of the team that grew Bankers Trust to be the most profitable investment bank in Australia.
As CEO of Bankers Trust, he saw funds under management grow to $30 billion and built the organisation to more than 3,000 employees.
Rob is also one of the few senior executives to experience a complex organisation at each level. Rob climbed the ranks at Bankers Trust to become head of corporate finance, CEO and ultimately to serve as Chairman.
Rob says he is driven by ideas. "I think a lot about the big picture of things in terms of what makes things tick. Understanding people is a huge part of getting a fix on the world, particularly in business, so I put a huge effort into thinking about what makes people tick. "
"To succeed at the highest level you need to develop all-round rather than specialist skills. We are often taught the specialist skills early in our career but the all-round skills are more to do with understanding people and context. Being able to talk to someone who has been through it all before helps clear what can often be a cluttered path."
As a coach, Rob offers his clients a keen intuition, his ability to listen and his strong sense of empathy. He believes all senior executives can benefit from a coach.
"When I was a CEO I needed someone to confide in apart from my colleagues and I think this is a universal need. None of us are the complete package, we cannot do it all ourselves and to recognise that is to gain strength."
Rob has a wealth of board experience across a diverse range of commercial and not-for-profit organisations in banking, international policy and health. His board appointments have included the Sydney Writers' Festival , Primary Health Care Limited, The GPT Group, Vodafone, Westfield Holdings and the Lowy Institute.
Married to Jenny, Rob enjoys spending time with his adult daughter and two granddaughters.